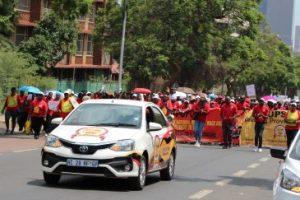 NUPSAW OPPOSED TO THE USELESS AND DANGEROUS STRIKE CALLED BY NEHAWU
FOR IMMEDIATE RELEASE
23 AUGUST 2020
The National Union of Public Service and Allied Workers (NUPSAW) has noted that the NEHAWU has called for a national strike indefinitely so by Public Servants against the employer's refusal to implement the last leg of the public servant's wage agreement. NUPSAW would like to make it clear that it is not and would not form part of the illegal activities as this would result into unnecessary charges and mass dismissal of our members by the employer as it would be an unprotected strike.
NUPSAW's position is that, since employer had already demonstrated by correctly and consistently implementing same wage agreement for the past two years and now refusing to implement the last leg of the same, such matter should be dealt with at a competent court legally (Labour Court) to force the state as employer to implement the last remaining leg of wage agreement as opposed to embarking on an illegal strike as this is not a matter for a protected strike but rather a dispute of right which must be adjudicated by a Court.
The union has already filed its papers together with PSA at the Labour Court to compel state as employer to implement last three remaining leg of wage agreement. What really doesn't make logical sense to NUPSAW is the fact that, the very same NEHAWU that is now pretending to be fighting for and making call for all public servants to go on indefinitely strike, had already or long referred the same to the Public Service Co-ordinating Bargain Council (PSCBC) as dispute of right. They are demanding that the Council to interpret and apply something which has no question of which, the employer fully understand it and has had correctly implemented it for last two years. They should instead of seek lie us, seek a declaration from Labour Court to force the state as employer to implement last remaining leg of such wage agreement. NEHAWU's matter has not yet even been dealt with on merit basis since the Council still has to cross the bridge in determining whether the matter referred by NEHAWU could be heard or not by the very same Bargain Council on legal basis issues. Now NEHAWU whilst still stuck in an unbeatable dispute, now seeks or wants to flex its muscle by doing a window dressing at the expense of poor public servants and let alone risking with their job security.
NUPSAW cannot afford such, especially its members & all public service workers to be misled by NEHAWU who is sleeping in the same bed with the ruling party ANC, which is the state as employer and therefore NUPSAW wishes to discourage all public servants not fall in such trap.
For more information,
Kagiso Makoe
NUPSAW Media Officer
083 712 1614